?Home grown tomatoes, home grown tomatoes. What would life be like without homegrown tomatoes. Only two things that money can't buy. That's true love and home grown tomatoes.? John Denver, 'Home Grown Tomatoes' (from a song written by Guy Clark)
When one gets past the notion that all tomatoes should be round and red, a whole new world of colors, shapes and flavors opens up to those who venture from the ordinary. The wild and exciting variations that come with planting your own heirloom seeds are stunning, and should be experienced by anyone who loves their summertime goodness.
Tomatoes are like fine wine. Each has distinctive flavors and textures, and every gardener will have a slightly different experience with each one. Here are a few personal favorites that I have grown, and each has qualities that stand out from the ordinary. They are like old friends who I anticipate with eagerness as summer arrives. Every one has been selected because they are the tomatoes that I repeatedly return to each season for the special experience that each one brings, and are in no particular order of preference. They are simply chosen for their unique color and extraordinary flavors. The round red, traditional tomatoes have wonderful varieties also, but this article is just about the ones with unique coloration. All varieties are available commercially.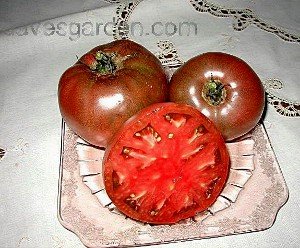 Cherokee Purple: This tomato is not actually purple. It's a pinkish brown shade that actually looks somewhat rotten, but take a bite of this odd looking tomato and all doubts will fade. It has a lovely sweet flavor that is mild and intense at the same time. The fruits are usually a small beefsteak size. They are not so large that it's are hard to find uses for them, but very respectable tomatoes. They make wonderful slicers and while it usually takes two slices to cover a sandwich, it is certainly not a hardship. They are firm and meaty, and will not fall apart in recipes. They are productive and the harvest season lasts most of the summer. Named for the Cherokee Nation, where the seeds were obtained, this is a beautiful and flavorful addition to the home or market garden.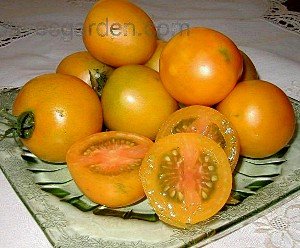 Jaune Flammee: Lovely little salad sized tomatoes that hang in trusses of six or eight fruits. These tomatoes have an deep orange skin and a redder interior. They ripen early, and are one of the few small tomatoes that have the intense flavor of a much bigger fruit. They are one of the first tomatoes to ripen in my garden, and I relentlessly stalk the likely candidate to ripen first each season. The minute I determine that it is the perfect degree of maturity, I have the same ritual each summer. The first ripe tomato is eaten right from the vine while standing in the garden, preferably barefoot and scrunching my toes in the warm dirt. Very productive, and easy to harvest. Market farmers will love this tomato. It is one of my earliest tomatoes, and has the full flavor that usually only comes from fruits harvested in the middle of the summer. A great chef's tomato too, as it is lovely on a salad plate.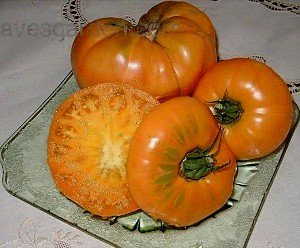 Kellogg's Breakfast: Monstrous orange fruits with a huge taste. These are big in every way. Quite capable of covering a large piece of bread with one slice, and a taste that isn't wimpy or watery. Most folks do not care for the yellows and oranges because they claim the taste is bland. This tomato will shatter all preconceptions. I love this tomato witha thick sliced piece of bologna, and a red onion on a hearty bread with mayo. The taste shines through with a great 'bite' of tomato essence. Kellogg's Breakfast tends to have green shoulders and sometimes irregular shapes, but both can be overlooked with the full flavor it produces.
Makes a hearty and colorful salsa when you are looking for something to surprise a crowd.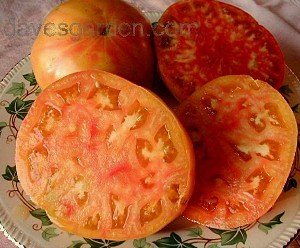 Lucky Cross: Guaranteed to be the first plate of tomatoes to empty at the local pot-luck or church supper. These lovely bi-color tomatoes are impossible to leave on a platter. They are large golden beefsteaks that are streaked and striped with red. The color extends into the fruit to show a striking marbled effect. The taste is mild and fruity, but with enough pure tomato flavor to satisfy tomato fans everywhere. There are quite a few bi-color varieties, but Lucky Cross has such consistent flavor and production, I rate it above similar looking tomatoes. The skins are thin, and they bruise easily, so they will never be among the selections at the local supermarket. This means absolutely nothing to true tomato lover, as they would never stoop so low as to purchase what passes for a tomato in such an establishment. If planted for sale at a Farmer's Market, be sure never to stack more than two deep when transporting them. This will minimize bruising. Very productive for a bi-color, and tomatoes are reliably over one pound.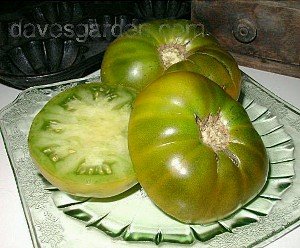 Aunt Ruby's German Green: Yes, this tomato ripens green! It has a great fresh flavor that has a pleasant tomato 'bite'. They are quite productive and once you grow them, it's easy to tell the immature fruits from the ripe ones. The ripe fruits develop a golden blush, and the tomatoes will soften and the skins will yield to light pressure when given a slight squeeze. Aunt Ruby's German green tomatoes may look like a novelty, but they can hold their own with any red skinned ones. They make a great salsa, (use red peppers for a 'reverse' look) They are a personal favorite of mine, but it may be hard to convince friends and neighbors to take the plunge. I usually start several hundred tomato seedlings every year to sell, and thinking that they would be a hot item, I planted quite a few of these. I ended up giving most of them away, but the following year, I had requests for those "ripe green tomatoes". Chefs love them.
These are just a few of the many unique varieties available to the home gardener. Many more are available, and the adventurous should explore the variations that are offered in many of the vegetable seed catalogs that companies will happily send to anyone who asks. Three companies that offer a lovely selection of tomato varieties are Seed Savers Exchange, Baker Creek Heirloom Seeds and Tomato Growers Supply. All offer good quality seeds and have great customer service.
There are many more companies who are just as good, but these are three that I have had personal experience with and have always had good service.
Growing tomatoes is one of the most popular garden projects enjoyed throughout the world. If you already love the intense burst of tomatoey essence that can only come from biting into one of your own sun warmed jewels, color outside the lines a little and experiment with some of the lesser known varieties. You may be surprised.