Dwarf Fruit Trees
Dwarf fruit trees are perhaps the most exotic plants you can grow indoors. Native to tropical regions around the world, their lush foliage, exotic flowers and edible fruits make captivating conversation pieces for a sunroom -- or a sunny room.
Dwarf Banana Plants
If you've ever thought about growing banana plants indoors, you'll want 'Dwarf Cavendish', a compact variety that tops out at 6 ft (1.8 m) tall.
Red flowers (shown at left) are followed by a bunch of bananas. It's perfectly happy in a container, as long as you can provide the sunlight it needs.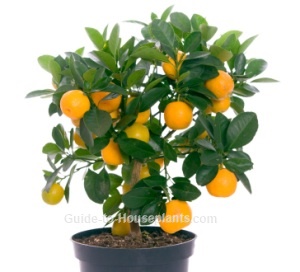 Miniature Orange Tree
Calamondin is one of the easiest indoor citrus trees to grow.
Not a true orange, this dwarf citrus tree is actually a cross between a kumquat and a tangerine.
With good citrus tree care, you'll enjoy your calamondin tree for many years. It's long-lived and adaptable to indoor living.
Dwarf tangerine and kumquat trees are other delightful citrus trees to grow indoors. You'll love their fragrant flowers and sweet fruits in winter.
Meyer Lemon Tree
'Meyer' lemon tree is productive indoors, producing sweet, yellow fruits throughout the summer.
It has something to offer for any season, though -- glossy, dark-green foliage, and fragrant white flowers. You'll often find flowers and fruit on the tree at the same time during the summer, making it an attractive dwarf citrus tree to have in your home.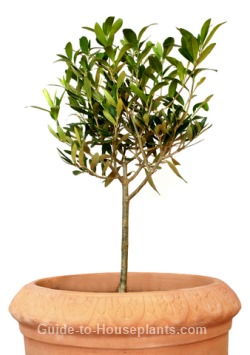 Olive Tree
An olive tree...indoors?
Why not. This beautiful Mediterranean native is quite at home in your kitchen window, your sunroom, or any sun-drenched spot you choose.
Tolerant of the dry conditions of its native region, this dwarf fruit tree is easy to grow in a pot as long as it gets plenty of sunlight.
Dwarf olive trees stay small when grown indoors. And with some pruning, you can control its size and keep it shapely. Get tips for growing olive trees here.
Dwarf Pomegranate Tree
Dwarf Pomegranate makes a charming and unusual house plant.
Put it in a sunny window and you'll enjoy its orange-red blooms followed by mini pomegranates throughout the summer. The fruits of this dwarf tree are purely decorative.
The dwarf cultivar 'Nana' only grows up to 3 ft (90 cm) tall. Prune it back as much as you want. You can even grow one as a bonsai.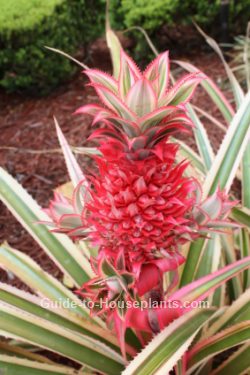 Variegated Pineapple
Ananas nanus is a dwarf species of pineapple that only reaches 16 in (40 cm) tall.
Although, if you want a stunning indoor accent, A. cosmosus 'Variegatus' (shown at left) is truly spectacular. Its spiny foliage edged in cream and red makes an impressive house plant.
These South American natives are happy in a container as long as you meet their needs for sunshine and humidity.
Get care tips for growing pineapple plants indoors and find out how to grow, plant and propagate pineapple plants.