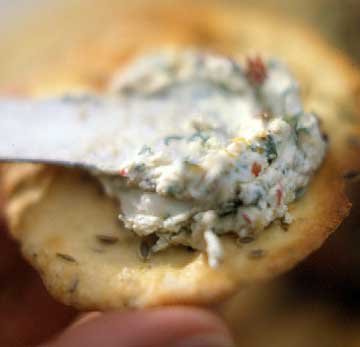 Add fresh herbs to cheese spreads.
A great way to become familiar with the flavor of an herb entails making an herb butter or herb cheese and using it as a spread. Almost any herb makes a delicious herb butter. Some of the best are parsley, chives, savory, marjoram, garlic chives, lemon balm, tarragon, and chervil.
Learn how to make your own herb-infused vinegar.
continue reading below
What You Need:
1/4 cup of butter or cream cheese
2 teaspoons of fresh herbs
Instructions:
1. Mix 2 teaspoons of chopped fresh herb with 1/4 cup of butter or cream cheese. Let stand at room temperature for 30 minutes. Spread it on crackers or bread, corn on the cob, grilled or cooked vegetables, or pasta.
2. Blend the herbs with semisoft or soft cheese brought to room temperature. Add shredded hard cheese and shape the cheese blend into balls, tubes, or rectangles. Chill before serving. Topping a cheese slice with an herb sprig or leaf makes for a special hors d'oeuvre.
Download our helpful chart on great edible herb blossoms. (Downloading requires Adobe Acrobat software.)
Great Edible Herb Blossoms
Download Adobe Acrobat