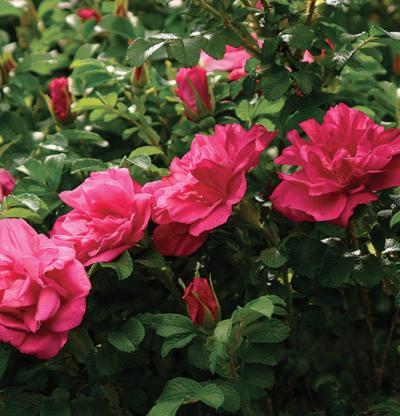 'Purple Pavement' rugosa rose
(Rosa rugosa 'Purple Pavement')
ROE-sah roo-GO-sah Synonyms: R. rugosa 'Rotesmeer' Genus: Rosa 'Purple Pavement' has large, ruffled blossoms with a  purple-red color and strong fragrance. In the fall, the blossoms give way to large, handsome hips, and the foliage turns from green to shades of yellow and maroon. This shapely shrub with dependable repeat bloom it is especially good for a late display, when the hips appear alongside fall asters and other perennials with assertive autumn colors.
-Suzanne Verrier, No muss, no fuss rugosa roses, Fine Gardening issue #121
Noteworthy Characteristics: Large flowers and hips; good fall color. Rugosa roses are listed as an invasive plant in some areas, including Connecticut, Massachusetts, New Jersey, New York, Rhode Island, and Washington. Care: Provide full sun, good air circulation, and fertile, well-drained soil. Top-dress with compost after planting and every subsequent spring and fall. Propagation: Dig up suckers in fall and, with a sharp spade, cut the root that connects the sucker to the shrub as close to the mother plant as possible. Leave the sucker in place in the ground until early spring, by which time it will have developed its own root system. Transplant it to a more desirable location. Problems: Japanese beetles, rose stem girdler, deer.
Overview
Height 3 ft. to 6 ft. Spread 3 ft. to 6 ft. Growth Pace Invasive/Aggressive Grower Light Full Sun Only Moisture Medium Moisture Maintenance Moderate Characteristics Fragrant Flowers, Showy Fall Foliage, Showy Flowers, Showy Seed Heads Bloom Time Early Summer, Late Spring, Late Summer, Spring, Summer Flower Color Purple Uses Beds and Borders, Hedge, Screening, Specimen Plant/Focal Point Style Cottage Garden Seasonal Interest Spring Interest Type Shrubs