Hanging Basket Plants
Looking for an easy way to add beautiful style around your home? Try hanging basket plants near windows, in a sunroom, or on your porch or patio. They lend a fresh burst of color just about anywhere.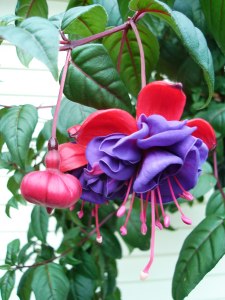 Fuchsia
Nothing beats fuchsia for an explosion of vibrant, eye-catching blooms.
Hang your fuchsia plant near a window, where it'll get filtered sunlight. If you hang it outdoors, keep it in a shady location. These made-in-the-shade bloomers don't like harsh, direct sunlight.
It's a perennial, so you can overwinter it indoors. Bring your plant inside when the temperature drops below 45°F/7°C. It won't tolerate frost.
Easy to find in garden centers and nurseries, there's just no excuse not to enjoy this sizzling show of flowers all season.
Chenille Plant
Want a daring departure from the ho-hum?
Fuzzy, tassel-like blooms spill over the sides of the container, making this captivating plant an ideal hanging basket plant -- and a sure conversation starter.
Hang chenille plant in a bright window and you'll have a show of blooms from spring through fall.
Asparagus Fern
With soft, feathery foliage trailing 2 ft (60 cm) or more, asparagus fern looks elegant among other house plants.
It's also a popular seasonal container plant in temperate climates, mixed with brightly colored flowers. Want to move your fern outdoors for the summer? That's fine. Just keep it shaded from hot sun.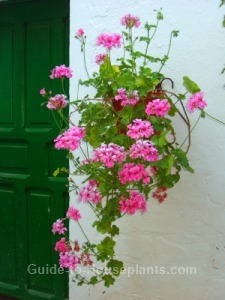 Ivy Geranium
Put ivy geranium in a hanging basket -- indoors or out -- and marvel at its gorgeous ivy-like trailing foliage studded with flower clusters.
Not a true geranium, but this Pelargonium is actually just as easy to grow. And, like its namesake, grows well in a container.
Let it have as much light as possible, and you'll be rewarded with a profusion of colorful flowers.
Plant sconces create a beautiful transition between the outdoors and indoor areas. Place your hanging wall planters (like the one shown here) near a window or sliding glass door.
Hanging Basket Plants for Sale