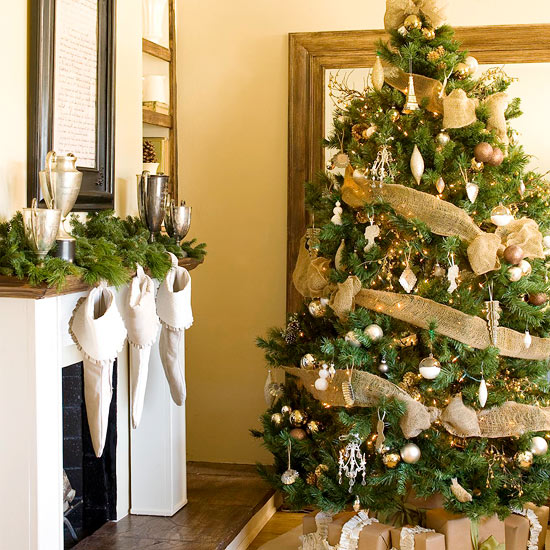 Christmas trees are biodegradable and have several uses that benefit nature. Toss your Christmas tree into your backyard or garden as a shelter for birds and small animals during the winter. Better yet, place the tree outside in a tree stand. Add some birdseed cones, strung popcorn, bread, orange slices or other fruit and you'll likely attract birds to your tree and enhance your winter wonderland.
continue reading below
When the tree becomes brittle, it can be chipped into mulch. Check with a neighbor who has a chipper or contact your local municipality. More towns and cities are providing drop-off sites to collect trees for recycling into mulch. The mulch is valuable organic material that can be used to conserve soil moisture. Some municipalities will recycle trees that have been left at the curb, but check before disposing your tree in this way. Your local public works department is a good place to start.
If you don't have access to a chipper and you're not keen on attracting birds, cut off the boughs and place them around your plants. They can serve as insulation for plants that might need a little extra protection.
Another option is to use the trees for fish habitat; submerged trees become a fish feeding refuge. If you have a large fishpond or live in a neighborhood with a large lake, check with local homeowner associations to arrange for submerging trees.
Trees also can be used as soil erosion barriers, particularly along shorelines. Check locally for more information from your municipality about recycling trees in this way.
To recycle your Christmas tree, make sure to remove all decorations, tinsel, lights, and other ornaments. In most municipalities, trees that have been sprayed with artificial snow will not be accepted for recycling.
While it might be tempting to burn a Christmas tree in a fireplace or wood stove indoors -- don't. It can cause buildup of creosote, which is highly flammable, and can cause a fire to get quickly out of hand. Some municipalities allow burning trees in outdoor fire pits. Check your local ordinances, and always cut the tree into smaller pieces, adding bits of material at a time to help keep the fire from getting out of control.
Opt for an environmentally friendly recycling option and give your tree back to nature.