Kitchen Bouquet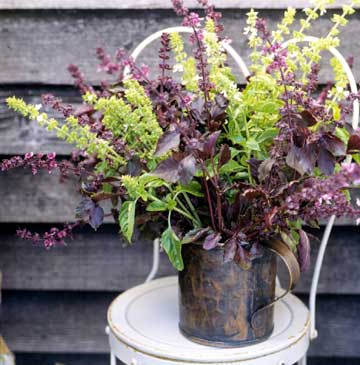 Kitchen Bouquet
Although you usually want to harvest basil leaves before the plants flower, the spiky blossoms make aromatic and delightful additions to arrangements. If you cut the flowers just as they begin to open, the plants will continue to produce leaves. Mix purple and common green basils together. Use the leaves in Italian cuisine, on sandwiches, and in salads. Sprinkle the blossoms on soups, salads, or pasta.
continue reading below
Traditional Posy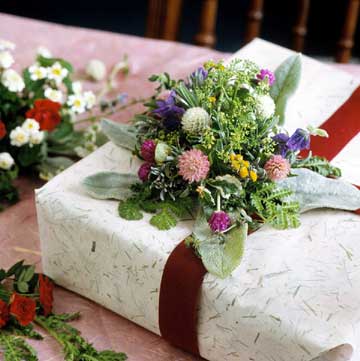 Traditional Posy
Traditional Posy is a heartwarming gift topper that combines lamb's-ears, tansy, rosemary, lavender, globe amaranth, and statice, all secured to a core of floral foam.
Holiday Bouquet
To flavor a Thanksgiving feast, arrange cut herbs, such as sage, chives, garlic chive blossoms, purple basil, and dill in low jars filled with water to keep them fresh. Or, combine cut and potted herbs. Set the herbs in a basket.
Tussie-Mussies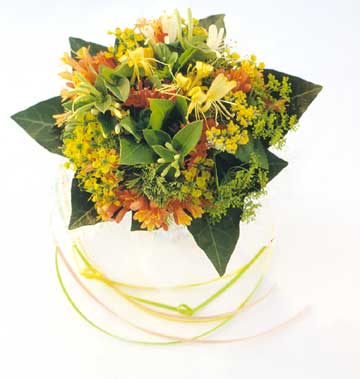 Tussie-Mussie
Embellish a gift package or place setting with a special nosegay of herbs and flowers, and use their traditional meanings to send a message at the same time. For example, lemon balm stands for sympathy; mint stands for wisdom; parsley stands for festivity; rosemary stands for remembrance; and sage stands for esteem and long life. Use the herbs and flowers from your garden to make a pretty, conversational keepsake. Gather a small bunch of fresh or dried herbs and tie the stems with ribbon or raffia, or arrange them in a chunk of floral foam that holds water. Make a package decoration using a half-sphere floral-foam holder with an adhesive bottom (available at crafts and florist's suppliers).
Double Duty
Herbs go from the garden to the table, where they do double duty as bouquets or gifts, and then as ingredients in cooking. Take advantage of the colors, textures, and forms of both herb foliage and flowers by adding them as accents to your flower arrangements or gathering them into their own beautiful and aromatic bunches. Most herbs air-dry well after they've served as a bouquet; let them stand in the vase without water. They'll still be useful in cooking as dried material.