Drying flowers helps your preserve bouquets that have been presented to you on special occasions. Doing so helps you keep fond memories intact. This Buzzle article provides you with some easy to follow guidelines on how to dry flowers.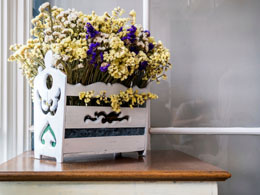 For the purpose of drying, select the right kind of fresh flowers. Make sure that the flowers do not have insects, parasites, or moisture on the petals. Flowers which are in full bloom should be avoided as they tend to lose petals as they dry. Buds and blossoms are the best choice for this procedure.
Techniques Used
Pressing
This method is not suitable for flowers with thick stems, but works well on delicate blooms like lilies or other flat shaped flowers. Here, the flowers are pressed in between two layers of absorbing material that can absorb the moisture from the flower. For this you can dry flowers in a book or other unglazed paper like newsprint. Place the flowers in between thick layers of papers in a book in such a way that one flower does not come in contact with the other. Keep the book under a heavy object and wait for 2-4 weeks. Then you open the book to find beautiful dried flowers.
Air Drying
The best part of this method is that it can retain the shape and color of the flowers. Take out the extra foliage from the fresh flowers and tie them up together with a rubber band to form small bunches. Select a place for hanging the flowers which is warm, dark, dry, and has good ventilation. Hang the flowers upside down on a coat hanger in your attic or closet till they are dried completely. Rose, zinnias, tansy are some of the varieties of flowers which can be dried using this method.
Drying Agent
Silica gel is an excellent agent and helps to dry flowers uniformly. Silica gel is like sand and is available in small packets with florists, gardening or hobby stores. You can dry any kind of flowers at home with the help of this. Even those that have a heavy density of petals and are difficult to dry evenly, can be dried with silica gel. Though this agent is expensive, you can reuse it again, and for many years.
Microwave
Use a container that is safe for use in the microwave to hold the flowers. Remember to use silica gel so that the flowers retain their original shape. Pour some silica gel to cover the bottom of the container, then place the flower on it with blossom side up and then pour some more gel on the flowers. However, make sure that the petals do not get flattened due to the extra weight of the gel. You have to set a temperature slightly higher than the defrost and keep checking the progress from time to time, and make changes as per the requirement. Once the flowers are dry, cover the container and remove it from the microwave. Allow it to cool for 24 hours, and brush off all the extra gel. Finally, coat the flowers with hairspray so that they do not absorb the moisture from the air.
Once you are done with the entire procedure of drying flowers, you are free to use them as you like. You can use them while making greeting cards, or even as wall hangings.