The Importance of Habitats
Before you can welcome wildlife into your garden, you will need to understand the different types of natural habitat. There are dozens of different habitats and each is home to a specific range of plants and animals. Some habitats, for example heather moorland and coastal cliff will be impossible to recreate in the average garden, but others could be created in almost any garden.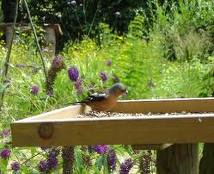 The woodland edge is where two habitats — woodland and meadow — meet, and as a result it is itself one of the richest habitats.There is a background of tall trees with an under-layer of shrubs, but enough light penetrates through for the ground to be covered in a wide range of plants that enjoy semi-shade conditions. As you go deeper into the woodland, so the range of plant species in the shrub layer and ground cover is reduced. As you emerge from the woodland, the trees and shrubs decrease and you get a meadow habitat. A woodland-edge habitat is readily created in any garden where there are a few mature trees by adding a range of native or ornamental berrying shrubs and a ground cover of woodland plants.
HEDGEROWS
Mixed hedgerows are one of the most important habitats because they frequently provide a link, or wildlife corridor, between woods and fields. Planted with a variety of flowering and berrying shrubs, they provide food for
insects, birds and small mammals and a safe haven in their closely entwined branches and in the dense undergrowth of wild flowers at their base. They also provide a refuge for wild flowers where the farmer's combine harvester or the gardener's lawnmower cannot reach. A mixed hedgerow makes a natural boundary for a garden in the country, particularly where the adjoining property is a field or wood.
MEADOWS
Meadows are not naturally occurring ecological features but were created by farmers as pasture for grazing stock. With their mixture of grasses and wild flowers, they are an important habitat for many insects and small mammals.
The range of wild flowers found in any meadow will vary with the soil type and fertility and also with the drainage, so a damp water meadow will have ragged robin and lady's smock among its grasses, whereas a dry chalkland pasture may include wild thyme, bird's-foot trefoil and several vetches. A wildflower meadow can be planted in any garden where there is space, but check your soil first.
WATER AND WETLANDS
These are actually two different habitats. The first is that created within water for aquatic life, such as water beetles and tadpoles, and also for some wonderful plants, like the white water lily and water hawthorn. The second, wetland, comprises the permanently wet soil often found on river banks and next to ponds and lakes. It is the ideal home for all moisture-loving plants. In the garden, we can plan the two together as a garden pond and associated bog garden, which can be planted with either all native plants or a mixture of these with some introduced ornamentals.
THE FLOWER BORDER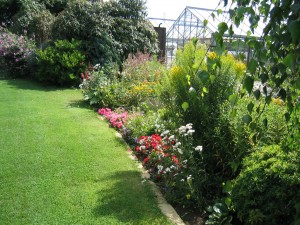 The border is not strictly a native habitat but a garden creation that generates its own range of wildlife if planted correctly. In a shady site it is more like a woodland edge, whereas in a sunny area it comes into its own as a major attraction for bees and butterflies.
The border can be planted with just wild flowers, as in the other habitats, but, since many ornamental plants are rich in insect-attracting nectar, a mixture of plants from all over the world is most successful. It can be just herbaceous plants, as in the traditional summer-flowering herbaceous border, or it can be a mixture of bulbs, herbaceous plants and shrubs, which will extend the flowering season to cover most of the year, thus providing nectar and pollen in early spring and autumn when it is most needed.
SECRET PLACES
These are not official or individual habitats but simply places in which animals already in the garden can build nests and hibernate. Most animals are naturally wary of humans and need somewhere to hide in safety away from prying eyes; the compost heap, a pile of logs, a heap of leaves or a bramble patch or clump of nettles are all perfect.