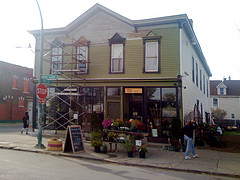 Our first year we celebrated our opening of the store and our Member-Owners with a party, and now with our third party in June of 2009, we celebrate our 2nd Birthday.
Urban Roots will be having our 2nd Annual Birthday/ Celebration of our Member-Owners Party on June 20th. There will be kids activities in the afternoon between 1 and 3, with flower pot decorating and face painting. Afterward, between 7-9 there will be an Adult Party for member-owners only. For non-members that have been thinking about becoming an owner of your garden center, this is a good time to join and there will be a table at the event to become a member-owner.
We are looking for volunteers to bring hors d'oeuvres (veggie plates, chips & salsa, cheese & crackers) and drinks (lemonade, fizzy water, iced tea). Please email us with what you would like to share and we look forward to seeing all of our members for a great day and night of activities.
Urban Roots is owned by its members – more than 550 households to date!
See photos of the the Urban Roots Birthday party!